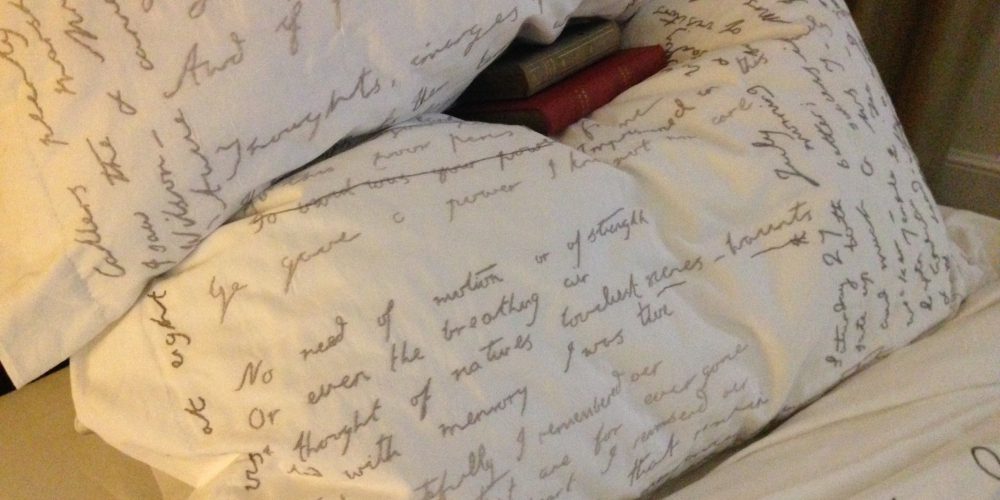 Dorothy's Room is an immersive installation inspired by Dorothy Wordsworth's Rydal Journals in which she describes "rural sights and sounds" in vivid detail: "blue primroses of Alpine purple"; the Robin who became a "singing companion"; "… hail, wind, rain, snow – Oyster Feast"; "bright gleams & startling flashes of sunshine"; hazy bulky mountains among slanting rays of the sun…"
Due however to illness Dorothy became bedroom-bound, relying on memory to transport herself into the landscape she had once walked.
 Her multi-sensory remembering and noticing of the 'natural' world enabled her to access the world around her and the past in an immediate and direct way that was therapeutic – a healing process that brought joy and calm and kept her from the "wilderness of her mind":
No need of motion, or of strength, Or even the breathing air: –
I thought of Nature's loveliest scenes; And with Memory I was there…
Extract from the poem "Thoughts on my Sick-Bed" by Dorothy Wordsworth.
Dorothy also brought "treasures" into her "quiet" room. The walls were hung with paintings, pots of flowers lined her window ledge, plants grew around her window, which framed the fells she once walked, sunshine and the "sweet sound" of a robin singing entered from the garden.
The installation, centred on Dorothy's sick bed, objects mentioned in her Rydal Journals nest amid twisted and disordered bed linen stitched with extracts of the later entries including a working-draft of part of her poem, 'Thoughts from my Sick Bed'. A film brings the walks and landscapes she wrote about in those journals into the gallery, reflecting her memories and longings to be outside. It shows images, recorded by Louise whilst she re-walked Dorothy's walks and walks that present-day women can no longer undertake, layered and edited to create an almost dream-like experience.
Dorothy's Room is part of Louise's current project entitled Women's Walks to Remember: 'With memory I was there' for which she is
collecting the Lake District walks of women who are no longer able to undertake them. Throughout August Louise is re-walking each remembered walk and bringing back treasures – film, sound, words, objects, maps – to share with each woman.
Creator, Designer and Film Maker: Louise Ann Wilson
Project Assistant: David Honeybone
Stitchers: Liz Bagley, Catherine Bartlett, Lois Kirtley, Jean Simpson
Film, Technical Editor: Janan Yakula
Women's Walks to Remember walkers: Linda Broughton, Margaret Crayston, Jill Peel, The Tuesday Walkers (led by Sue Falkner), Wallace Heim, Harriet Fraser
Thanks to: all at Rydal Mount and the Wordsworth family, Peter Elkington, Marian Elkington, Hazel Seddon, Nigel Crook, Jeff Cowton, Melissa Mitchell, Poppy Garrett, Susan Allen, Rebecca Turner, John Coombe, Simon Bainbridge, Jen Kagan, Anne Wills (for showing me how to make Pace Eggs) and Harold Potter, who inspired this project
Producer: Louise Ann Wilson Company
Funders: The Wordsworth Trust, Faculty of Arts and Social Science (Diversifying Wordsworth project), Lancaster University, Lancaster Arts at Lancaster University, wilson+wilson